References of Foreign Clients
"Philip Morris Engineering" (Switzerland)
International Projects
Peter Baumann, Senior Project Manager

"This is to confirm that Stroi International, JSC (Krasnodar, Russian Federation) was selected by PHILIP MORRIS as one of the major contractors for construction of the high-tech up-to-date warehouse # 98 of the Philip Morris Krasnodar Tobacco Factory. Total area was 15 000 sq. m., with performance of various works starting from piling field and intrasite networks to the installation of automatic fire protection gates and inside infra-red sensor rolling gates. Stroi International showed itself at advantage executing not only concrete works with application of PERI TRIO formwork and high quality sophisticated finishing works, but also successfully implemented innovative processes like high-strength dust-free DENSITOP floors applied in Russia for the first time.
Besides Warehouse # 98 Stroi International had been fulfilling other simultaneously going projects on Philip Morris jobsites: upgrading of Production building facades with Caparol-Capatect system, jet-grouting of foundations in the Production building based on Keller Gruendbauprocess, sealing of the roof with Kemperol system, reconstruction of the Philip Morris ex-pat specialists' hotel, etc.
All works were performed well, with good quality and in accordance with European standards, foreign and domestic deliveries of construction materials done professionally and timely, schedules of execution observed.
Also, Stroi International design institute made verification of Austrian basic and detailed design of WH # 98 in accordance with Russian standards and rules and coordinated the procedures with local authorities.
Company has a good experience of foreign operations and was capable of performing contracts in English and German language with foreign client, general planner and vendors as it has effective foreign relations department which is in charge of all related activities including contractual legal aspects of Continental and English Law, international transportation and custom clearance of imported materials and equipment. We can recommend Stroi International for performance of large-scale projects on "Turn-Key" basis or as a subcontractor, able to execute work with good quality and exact observance of construction schedules and budgets."
"ФАМЕД Инжиниринг ГмбХ & КО КГ" (Австрия)
Фриц Бауэр, Руководитель проекта
"This is to confirm that Stroi International, JSC (Krasnodar, Russian Federation) was nominated as the General Contractor for completion of construction of the Cardiological and Cardiosurgical Center in Krasnodar. The project (30 000 sq. m.) was started by VAMED Engineering GmbH and other companies in 1989 and then put on hold due to the economical problems in Russian Federation. The project was finally resumed in 2001 and successfully completed in 2002 for record nine months, having received a lot of local and federal coverage and publicity as one of the best clinics in Russia.
As the building was in a bad shape and design documentation was partly missing Stroi International started with investigations and thorough inspection of building systems, networks and parts to be reconstructed. Taking into consideration the very specific nature of the project, Stroi's specialists visited similar hospitals in Moscow and in Vienna/Austria where they precisely studied the organization and functioning of the operational theatres, resuscitation rooms and intensive care units. The acquired Know-How was implemented in the following scope of the purely medical purpose:
Installation of the tambour-sluice automatic doors in operational theatres;
Installation of laminar flows inside the operational theatres which create the excess pressure in the room preventing the intake of polluted air from outside;
All civil and specialized works were performed well, with required quality and at the European level, rapid deliveries of materials and equipment and good tempo at the jobsite resulting in the completion of the whole project three months earlier than previously planned.
Also, Stroi International together with Vamed Engineering GmbH & CO KG coordinated the delivery of the sophisticated medical equipment which included many "latest state-of-the-art" items from world leaders in production of medical technology.
As the Company has a good experience with foreign contracts, so all related activities like preparation of contractual agreements, negotiations, translation of the medical specs, custom clearance procedure of medical equipment, coordination among the Client, subcontractors and vendors were done professionally and timely.
We can recommend Stroi International as a reliable and obligatory partner and a professional contractor for performance of projects of any complexity and type including projects with involvement of foreign clients and vendors."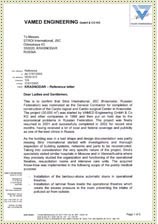 "Fluor Daniel" (European Headquarters, Ratingen, Germany)
Hans de Bruin, Project Manager
"This is to certify that Stroi International was selected by Fluor Daniel GmbH, Ratingen, Germany as one of the major civil contractors on the Philip Morris Manufacturing Facility Modification Project at Krasnodar, Russia. Stroi International was awarded by Philip Morris EEMA contracts for complete civil works in building # 1, partly in building # 2 and the erection of a Filterhouse. The total committed value was approximately USD 5.000.000,00 and the works were executed in the period from December 1994 till November 1995. In addition Fluor Daniel GmbH Ratingen used Stroi's design bureau to verify and to certify civil drawings, static calculations and the like before issuing same to the local building authorities. Stroi's construction department performed well, used materials mainly purchased in Germany and were capable to execute contracts in English language. Stroi's design bureau was of great help to Fluor Daniel as well as to Philip Morris' own project group. Resuming, Fluor Daniel GmbH/Ratingen, Germany, recommends Stroi International as a loyal and well performing contractor for all types of civil work".
JSC "Krasnodartabakprom" ("Philip Morris Group") (Russia, Krasnodar)
Kenneth Healey, General Director
"This is to confirm that Stroi International was a major contractor for Krasnodar Tobacco Factory (Philip Morris EEMA) during the period December 1994 to November 1995. In addition Stroi Design International were retained to oversee design compliance and were instrumental in obtaining the necessary construction permits leading to the act of commissioning. The project was comprised basically of renovation and refurbishment of approximately 20 000 sq.m including new sections of building and plant services. The combination of Stroi International's local strength and their international connections was very valuable in ensuring a satisfactory project."

"Bilfinger+Berger" (Germany)
Reinard Schapp, Managing Director of Duesseldorf Niederlassung
We would like to express our gratitude for cooperation which has been completed according to the schedule by 15.08.1992. We are pleased to confirm that Your builders employed at the jobsite "Theater Gallery" in Muenchen-Gladbach/Germany, fulfilled their tasks with good quality. We do hope that in future we shall have the possibilities for further cooperation and development of our business relations.
"Strabag Bau-AG" (Germany)
Burkhardt Schmidt, Head of Northern Rein-Vestfalia Division
From 8.07.1992 to 12.10.1993 You employed as an average of 17 builders of Your company under the program of practical training and qualification improvement at our jobsites in Duesseldorf "ARGE Building of Economics and Industry" and "ARGE Main Collector". Builders were specializing under up-to-date methods in the following trades: application of formwork, tool, instrument, construction machines and equipment handling, reinforcement works, concrete works, installation of RC prefab structures, placement of concrete floors, erection of brickwork, placement of stucco and cement screeds. Your personnel was very attentive during qualification improvement lessons and showed themselves at advantage at the practical training.
"Fluor Daniel GmbH" (Germany)
Arie Dekker, Project Director
"We are happy to inform You that the Philip Morris Krasnodartabakprom Expansion Project in Krasnodar, Russia has expanded up to October 1995 more than 500,000 safe man-hours. We all know that this has been a difficult project so far, and not everything did always work out the way as originally planned, however with the help of You and Your team at site, we have maintained a ZERO LOST TIME ACCIDENT record, something to be proud of. I do like to thank You all for making this project a safe project and trust that with Your support, we will maintain the project target to complete without any Lost Time Accident."