Company
"Stroi International", JSC, Group of Companies
Company "Stroi International", having more than half of a century experience in the industrial and civil construction field at the territory of Russia as well as on the jobsites of Germany, performs projects on the "Turn-Key" basis, offering to the Client the full package of services from design of buildings in various configurations and complexity in AUTOCAD system to the installation of sophisticated equipment and execution of any type of finishing works at European level with application of the latest finishing materials and newest European processes of cast-in-site construction of advanced seismic-proof strength and subsequent site improvement with consideration of every wish of the Client.
The Company acts as a General Contractor and a Client, assuming full responsibility for all design and construction phases and along with civil and erection works performs specialized works for installation of the electrical equipment, heating, ventilation and air conditioning, engineering networks including water pipelines, domestic sewage and drainage with modern rainwater treatment plants, process compressed air and steam pipelines, and renders services for installation of communication systems, fire alarm and computer systems. The Company professionally fulfills all works connected with application of concrete (as well as successfully applies up-to-date German gas and foam concrete processes), including construction of cast-in-site buildings and structures, tanks, bridges, supports, etc. The Company is qualified in erection of various types of facades, including sandwich systems and ventilated facades, also in construction of a special purpose (swimming pools, crude oil tanks etc.) Besides, the Company is licensed for construction of special complex foundations with the volume more than 100 000 m3 and execution of concrete works in aggressive soils.
Divisions of the Company:
"Stroi Monolith" - civil works;
"Stroi Podryadchik" - civil works;
"Stroi Electric" - electrical works;
"Stroi Design" - finishing works;
"Stroi Modern" - finishing works;
"Stroi Novatzia" - engineering networks and utilities, earthworks, road construction, production of concrete and mortar, manufacturing of plastic doors, windows and curtain walls
"AN-Stroi" - civil works, installation of completed buildings from steel profile under process of the European company "Astron Buildings"
"Stroi Seti" - installation of utilities and site improvement
«Stroi Investment» - investment division
«Stroi Spetz Tekh» - specialized division (construction machinery and equipment)
Engineering and Production Base of "Stroi International", JSC, with owned production areas and construction laboratory
| | |
| --- | --- |
| | The Company owns the engineering and production base with a number of workshops equipped with process lines which satisfy the company's specific needs in ready construction materials and products (production of concrete and mortar by two mobile concrete batch plants with execution of laboratory tests, manufacturing of timber structures, PVC doors and windows from the profile, production of putty etc.) Plant OMZ "Mekhpromstroi" manufactures truck sky workers and diversified building rigging, including scaffolds, formwork and customized equipment for job sites of the company and under the separate contracts with Customers. |
Year 2006 – period of substantial investments in development of the engineering and production base of the company, technical renovation and modernization of capital funds
Newest concrete mixing plant "Tecwill" (Finland)
Process line "Varyag - Rifei" for production of road tile and border stone
Tower cranes with load capacity, manufactured by ОАО «Rzhevskiy crane manufacturing plant»
Construction laboratory for testing construction materials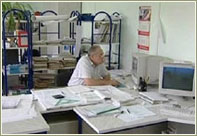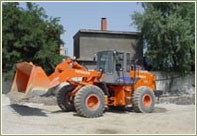 Design Institute "Kuban Universal Project"
Design institute "Kuban Universal Project", a member of the "Stroi International" group, develops projects in "CAD" system, coordinates design with all state inspection bodies and provides for project management and designer's supervision through all phases of the project.
Broad network of domestic and foreign vendors with many of them cooperating with "Stroi International" on a long-term partnership basis, supplies wide range of construction materials, products and equipment in precisely specified time.
Personnel of the Company and Qualification
Permanent number of workers and engineering personnel is 1000, inclusive of all trades in the building field (concrete placers, masons, carpenters, joiners, Re-bar binders, gas and electrical welders, electricians, electrical installers, installers of steel and RC structures, roof placers, painters, plasterers, tile placers, sanitary workers, asphalt placers, crane operators, adjusters, installers of PVC windows). Working brigades have high-class specialists with more than 30 year experience.
Qualification of personnel:
Top managers - not less than 15 years of experience
Managers - not less than 10 years of experience
Site personnel - not less than 2-5 years of experience
Annual Volume of Construction & Erection Works Executed since 1996